Motorcycle club name
"BAD INFLUENCE"
which cames from bikers who encouter by chance riding bike and sharing feeling together. Like a word
Bikeholic.
The group name was created by that meaning too.
In some good chances we do riding and camping also including every activities related to "2 Wheels" bike.
BAD INFLUENCE Motorcycle Club is an American motorbike team that the members are South American and Japanese. All bikers came across to deepen in
different nationalities and religions
.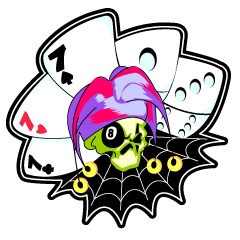 777 cards
: The lucky 7 from card game means praying for members to be safe and sound during bike tour.
The 13th dice
: 13th which you may know as an unlucky number but actually it also has a good meaning. It means "un limit" so, we use it in our motorcycle club colors for riding wherever we want with our crazy members.
8 balls
: The shape of a vertical figure 8 refers to the infinity symbol which means infinity motorcycle ride and infinity relationship.
Green Skull And Purple Spider web: They are symbolic images of American Motorcycle clubs that members in the club favor to add them into Club's colors.
Biker who was approved from group could get the colors also members'family and friends could wear T-shirt which has group colors printed on.